Tip: 3 easy ways to measure ring size
What ring size should you order if you don't know the ring size you need? In this article we will show you 3 simple do-it-yourself ways to measure ring sizes. Using one of these simple methods you will be able to select the right ring size when ordering a silver or gold ring from our collection.
The 3 methods by which ring sizes are indicated
Shops use various ways to specify ring sizes. At Aurora Patina we use the inner circumference in millimeters. Other shops may use the inner diameter of a ring or the American standard for ring sizes. It is important to understand which standard is used before ordering a ring.So what ringsize do you order if you don't know the ring size you need? Fortunately there are simple ways to measure ring sizes. No specialised tools required!
Ring size chart
Below you will find a ring size chart. In this chart you can look up different ring sizes used by the three different standards. So in case you know a ring's diameter, you will be able to find the corresponding ring circumference size, which is the standard we use in our jewellery shop.
Purchasing a ring for someone else? As long as a suitable ring is available we can measure a ring's diameter using a ruler or tape measure. You will be able to determine a suitable ring size through using our ring chart and can order the correct ring size in our shop. You will find our ring size chart on all ring product pages through the ''size chart'' button.
The ring size chart
| | | |
| --- | --- | --- |
| Diameter (mm) | Circumference size (mm) | US ring size |
| 15 | 48 | 4.5 |
| 15.5 | 49 | 5 |
| 16 | 50 | 5.5 |
| 16.25 | 51 |   |
| 16.5 | 52 | 6 |
| 17 | 53 | 6.5 |
| 17.25 | 54 | 7 |
| 17.5 | 55 | 7.5 |
| 18 | 56 | 8 |
| 18.25 | 57 |   |
| 18.5 | 58 | 8.5 |
| 19 | 59 | 9 |
| 19.25 | 60 |   |
| 19.5 | 61 | 9.5 |
| 19.75 | 62 | 10 |
| 20 | 63 | 10.5 |
| 20.25 | 64 |   |
| 20.5 | 65 | 11 |
| 21 | 66 | 11.5 |
| 21.5 | 68 | 12 |
| 22 | 69 | 13 |
Tip 1: Measuring a ring's diameter
The easiest way to measure a ring size is to use an available ring that fits. This method is particularly useful if you want to surprise someone and don't want to ask for their ring size. You can simply use one of his or her rings to measure the ring size instead.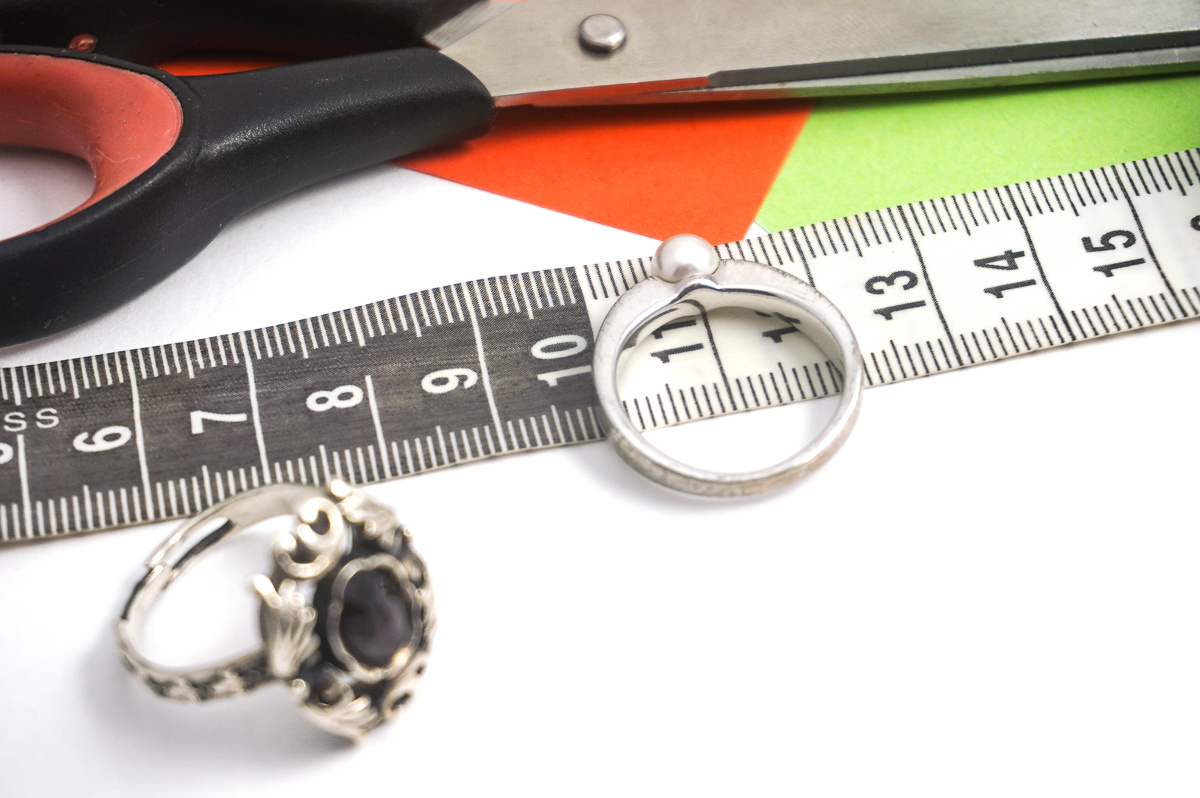 Place the inner side of the ring on the zero mark of a tape measure, geode or a ruler. Next, check the distance in millimeters on the opposite inner side of the ring. This is the ring's diameter. In the left-hand column in the ring size chart find the ring diameter you just measured. A corresponding circumference size is given in the middle column. Please note that this circumference size is the actual ring size we use in the shop.
Tip 2: Measuring a finger's circumference
When a matching ring is not available, measuring a ring size can be achieved by using a ribbon or string. Make sure that the material you use has little to no easticity. Wrap the ribbon or string loosely around the ring-wearing finger and cut it where it meets, as precisely as possible. Measure the remaining section using a ruler or tape measure. The ribbon's length corresponds to the inner circumference size and the standard ring size as specified in our shop.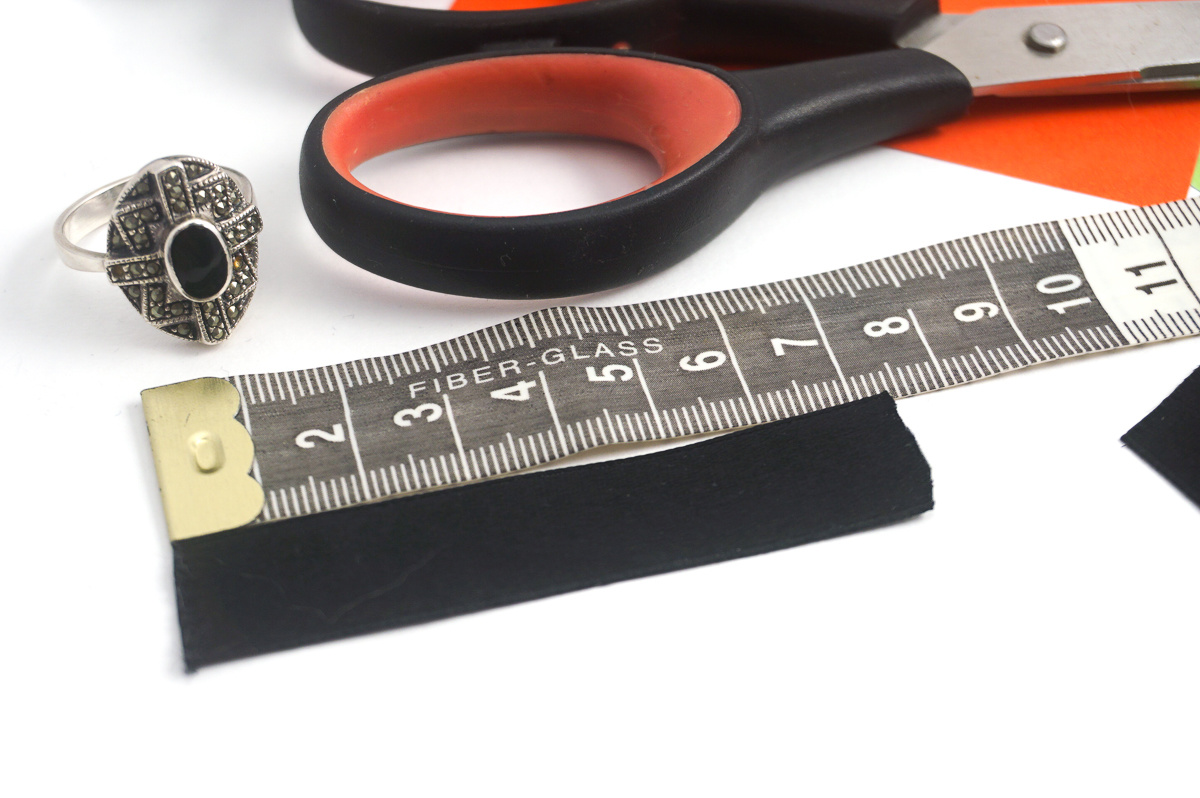 Alternatively, you can use a strip of paper to wrap around the finger. Cut a strip of paper about 1 cm wide and of sufficient length. Wrap the piece of paper around the finger. Mark the location where the paper meets using a pen or marker. Unfold the piece of paper and measure the distance. The length you just measured is the size you should select when ordering a ring in our shop.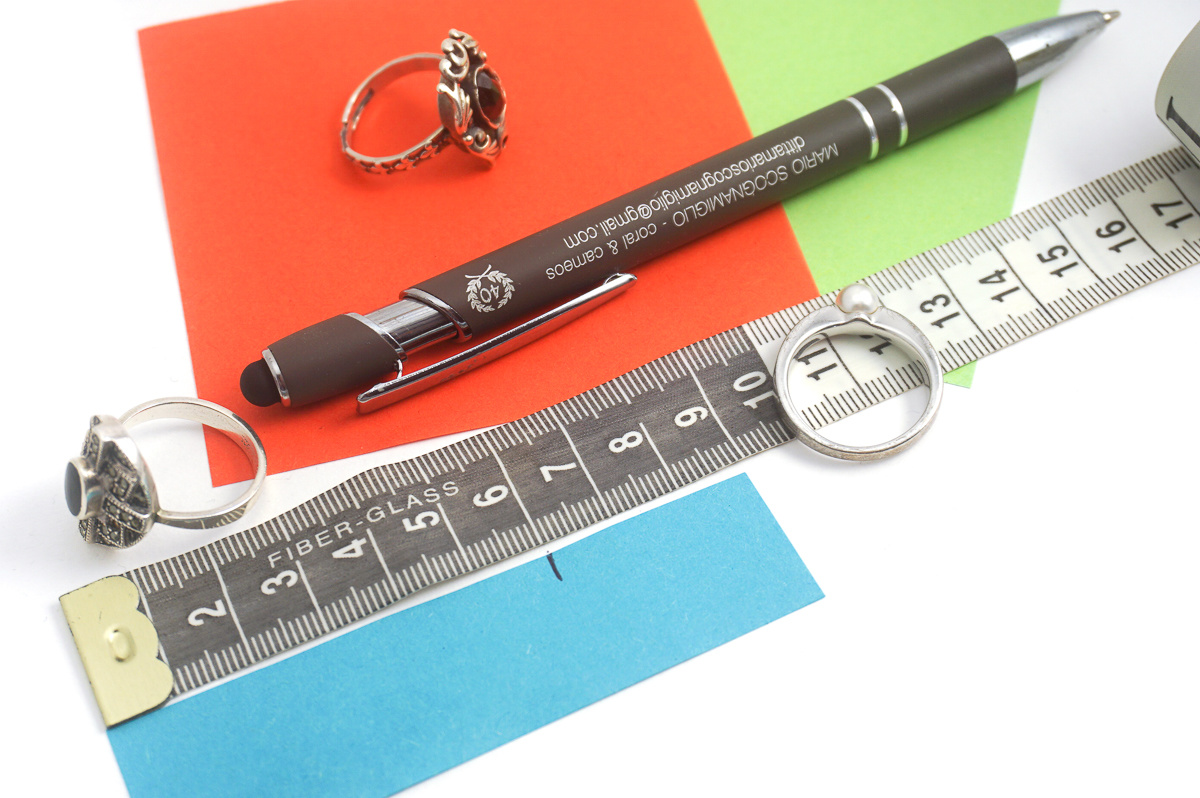 Tip 3: Using a tape measure to measure a ring size
A tape measure may not be very accurate, but it is an quick and easy method if you have one handy. A benefit of using a tape measure is its width, which allows you to cover a wider area of the finger. Wrap the tape around the finger as accurately as possible. Find the number of millimetres at the point where the tape meets up. This will give you the inner circumference of the ring which corresponds to the ring size. Use this size when ordering your ring.