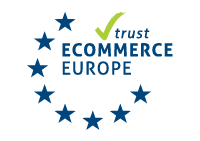 Aurora Patina is a certified by Thuiswinkel Waarborg and Ecommerce Europe Trustmark.
You can register items for return withing 14 days of receiving the items. No questions asked, no further obligations. Below you will find all the nessecery information regarding cancellation and returns.
Cancelling an order
If you mistakenly placed an order and want to cancel the order, a mail to our customer service will normally suffice. The easiest way to do this is by sending an e-mail to [email protected]
By placing your order you have in effect reached a purchase agreement with us that includes a payment obligation. This purchase agreement will expire once we cancel your order.
Returning an order
If the items you received do not meet your expectations, you are welcome to contact us with your wish to return some or all items in your order. You can do so by means of the European model form for revocation in Word format or by using our own form in PDF format. Alternatively, you can send us an e-mail and we will gladly help you to register your return in our system. After registering the return you have another 14 days to send the items to our returns adress. You can read more about what you have to do to return items below.
Please note that items have to be returned in their original condition, i.e. there may be no adjustments to the jewelry such as lengthening or shortening, replacement of parts or repairs after purchase. The articles should be returned in the condition in which you received them. If the evaluation of the articles went beyond what is necessary to determine their nature, characteristics and operation, we can charge you the resulting loss in value.
Step 1: Report an order for return
If you wish to return an order, we kindly request that you inform us within 14 days of receipt of your order via the European Model form for right of withdrawl. You can download this form here in PDF format. We kindly ask you to fill in the form as completely as possible. You can submit the form to the e-mail address (or postal address) stated on the form.
Step 2: Preparing your order for return shipment
As soon as we have processed your application, you will receive a return slip from us that you must include with your return shipment. This return slip is necessary to be able to process the return adequately upon receipt.
After you have received our confirmation, you may return the items within 14 days to the address below, preferably by using the original packaging. Please include the return slip supplied by us. Make sure that the items are properly packaged to prevent any damages. In the event items are damaged during a return shipment, we may charge you for the resulting loss in value. This can amount to 100%.
Costs of returning
For goods delivered within Germany, a free return sticker including postage will be added to your order. You can use this sticker to return items free of charge to our return address in Germany.
For goods delivered outside Germany, the return costs are to be covered by the customer. In case of unstamped, insufficiently stamped or cash on delivery shipments, we will charge you accordingly.
The address for returns
USG-Customer service
Dept: Shipping
Josef-Baumann-Str. 8
44805 Bochum
Germany
It is not possible to drop off goods at any of these addresses.
What happens after my return has been approved?
As soon as possible, but no later than 14 days after you notify us that you wish to cancel your purchase, you will receive the full purchase amount, including any standard shipping costs for the return shipment, refunded to the exact same account that you used to make your payment. We may await a refund until the goods have been returned to us, or you have proven that you have returned the goods, whichever is the earliest. In case you were not charged for shipping when ordering, you will not receive shipping reimbursement. A refund usually may take up to 3 to 4 days. We will notify you as soon as we have processed the refund.
Note: You are personally responsible for returning the order or parts thereof, and costs. If a return shipment gets lost during transport, we unfortunately will not be able to process it. For shipments with a value over € 50 we advise you to send shipments by registered mail.
Questions?
Hopefully we have been able to inform you adequately. If you have any questions, please feel free to contact us at [email protected]